Top Pirelli Performance centres get a tour of McLaren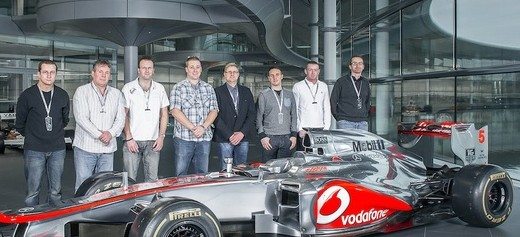 Around the end of December Pirelli rewarded its top performing Pirelli Performance Centres (PPCs) with a tour of the McLaren Technology Centre. Each of the top five performing depots in the 2013 retail standard audit won a pair of tickets.
Technical capabilities have long been a central part of what Pirelli Performance Centres are about, but earlier this year a retail standard was launched to check that the customer experience was also highly rated.
In agreement with the majority of the PPC depots, a mystery video shopping exercise was carried out and the top performing depots were Tyrespot on Scotswood Road in Newcastle, Merityre in Abingdon, STS Tyres Pros on Bedford Road in Hitchin, Protyre in Fareham and STS Tyre Pros in Letchworth.
These five best performing PPCs were given a comprehensive tour of the McLaren Technology Centre which included a visit to the historical collection of vehicles from the McLaren Formula One team. They also got the chance to see the F1 race team area and the McLaren automotive factory where the McLaren road cars – which exclusively use Pirelli tyres as original equipment – are produced.
Catherine Kirk, Trade & Consumer Marketing Manager at Pirelli UK explained: "We introduced the retail standard to ensure that PPCs were providing a fully comprehensive service to all of its customers. We were delighted with the results from the mystery shop exercise – the standard was extremely high but the five top performing depots bent over backwards to provide excellent customer service. On behalf of Pirelli, I'd like to congratulate the top five performing PPCs on their exceptional level of service throughout 2013."