Pirelli resumes WRC supply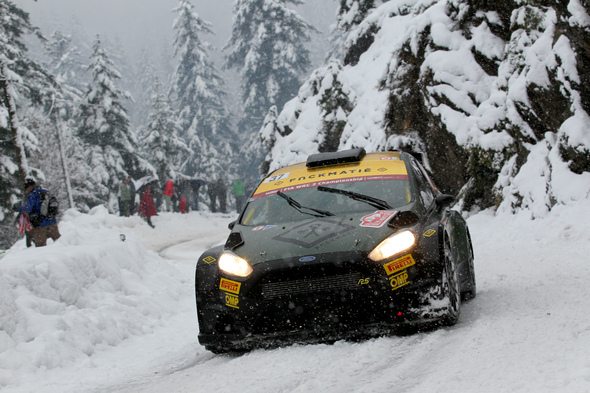 Last weekend, Pirelli made its return to the World Rally Championship after a long absence. The tyre maker was sole WRC tyre supplier between 2008 and 2010 but left the series when it was opened up to multiple tyre suppliers for the 2011 season. It also supplied the WRC Academy until 2012. Its focus this year is privateer competitors, and Pirelli is offering these drivers an entirely-new range of rally tyres.
Upon its return in Monte Carlo, the Italian firm equipped five runners in the WRC2 category: former European Rally Champion Armin Kremer, Italian Production Car Champion Max Rendina, Greek driver Jourdan Semeridis, France's Julien Maurin and Italy's Lorenzo Bertelli. In the Production class, there were two Pirelli runners: multiple Swiss champion Olivier Burri and Matthieu Margaillan from France. Bertelli finished runner-up in the WRC2 class, while Rendina won the Production category.
The tyres available in Monte Carlo were the Sottozero and RK, in the softest compound available (RK9). The Sottozero comes in two versions: studded, for snow and ice, and without studs – like a normal winter road car tyre. The RK was used for dry and damp asphalt, with the Sottozero used for snow and ice: typical of the conditions seen on the famous Turini stages that conclude the rally.
"Our intention in returning to the World Rally Championship this year was to provide our customers with competitive tyres that will enable them to fight for top positions," commented Matteo Braga, Pirelli's senior tyre engineer. "Even on our first event, the new tyres showed plenty of potential, as our class positions and stage times show. Olivier Burri's choice of Sottozero tyres on SS3 enabled him to seal a remarkable third-place overall on the stage, while Lorenzo Bertelli also led the WRC2 class before taking a podium on his Monte Carlo Rally debut. The conditions, as always, were extremely difficult this year meaning that not just pure speed but also the adaptability of the drivers and the tyres to the changing conditions held the keys to success."
Pirelli's next World Rally Championship outing will be Rally Sweden from 5-8 February, when the new Sottozero Ice will be seen for the first time.