Micheldever makes Falken Supplier of the Year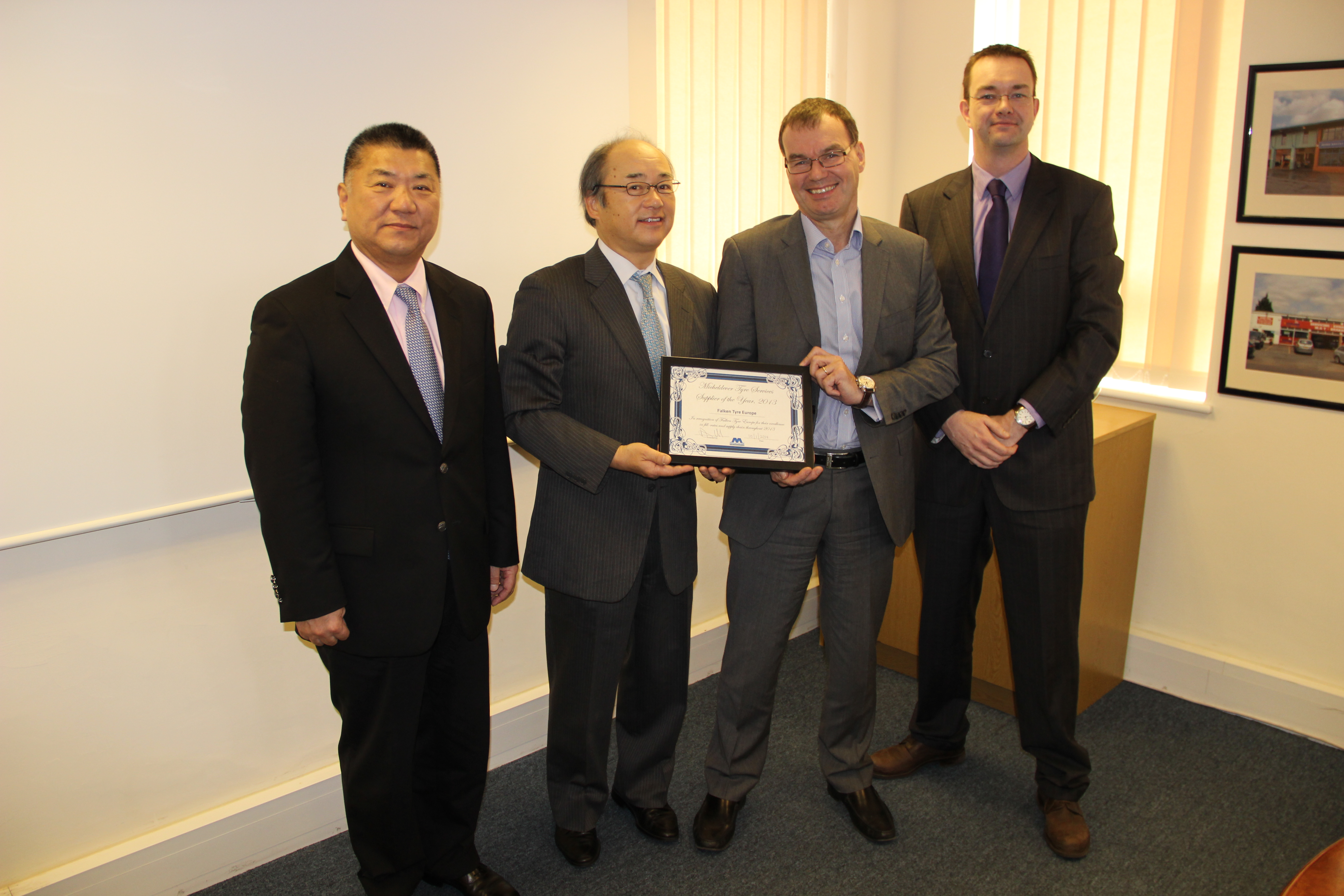 Sumitomo Rubber Industries global tyre brand Falken has been awarded 2013 MTS Supplier of the Year by UK tyre wholesaler and retailer Micheldever Tyre Services. The distributor said that Falken Tyre Europe out-performed all other manufacturers throughout 2013 in terms of on-time deliveries and the percentage of orders fulfilled, averaging in excess of 94 per cent availability across the year by Micheldever's own internal measurements.
"The Falken Brand has been a core product for Micheldever for many years" commented Angus Smith, commercial director at Micheldever. "The excellence in fill rates and supply chain demonstrated by Falken allows us to provide our customers with a quality product that offers not just a high level of performance, but also excellent and consistent availability across the full range of sizes offered."
Micheldever's distribution of Falken products is accompanied by an approved Falken Performance Partner programme, which boasts more than 275 local retail members, and its own networks of Protyre retail outlets and franchised VMA agents.
"MTS is the market leader in the UK tyre market working with many of the world's leading tyre manufacturers," said Isamu Ishida, Falken Tyre Europe's managing director. "Receiving this accolade reflects the hard work from both staff at Falken and Micheldever to ensure customers have access to great product when they need it."
"Our close partnership with the Falken team gives us many benefits" said Alistair Crumley, Falken brand manager at Micheldever. "It's a fantastic product, offering consumers premium technology and performance at competitive, mid-range prices. Being able to rely on the product arriving when we want it means we can concentrate on building tools and incentives that will add value and grow business for our retail outlets and dealer partners."
Micheldever's full support package for the national network includes a programme of consumer incentives throughout the year.  Access to flexible marketing funds and business development tool options, including bespoke training solutions and optimised websites to enhance dealer's local presence on the internet, are also offered.