Evergreen marketing extends motorsport involvement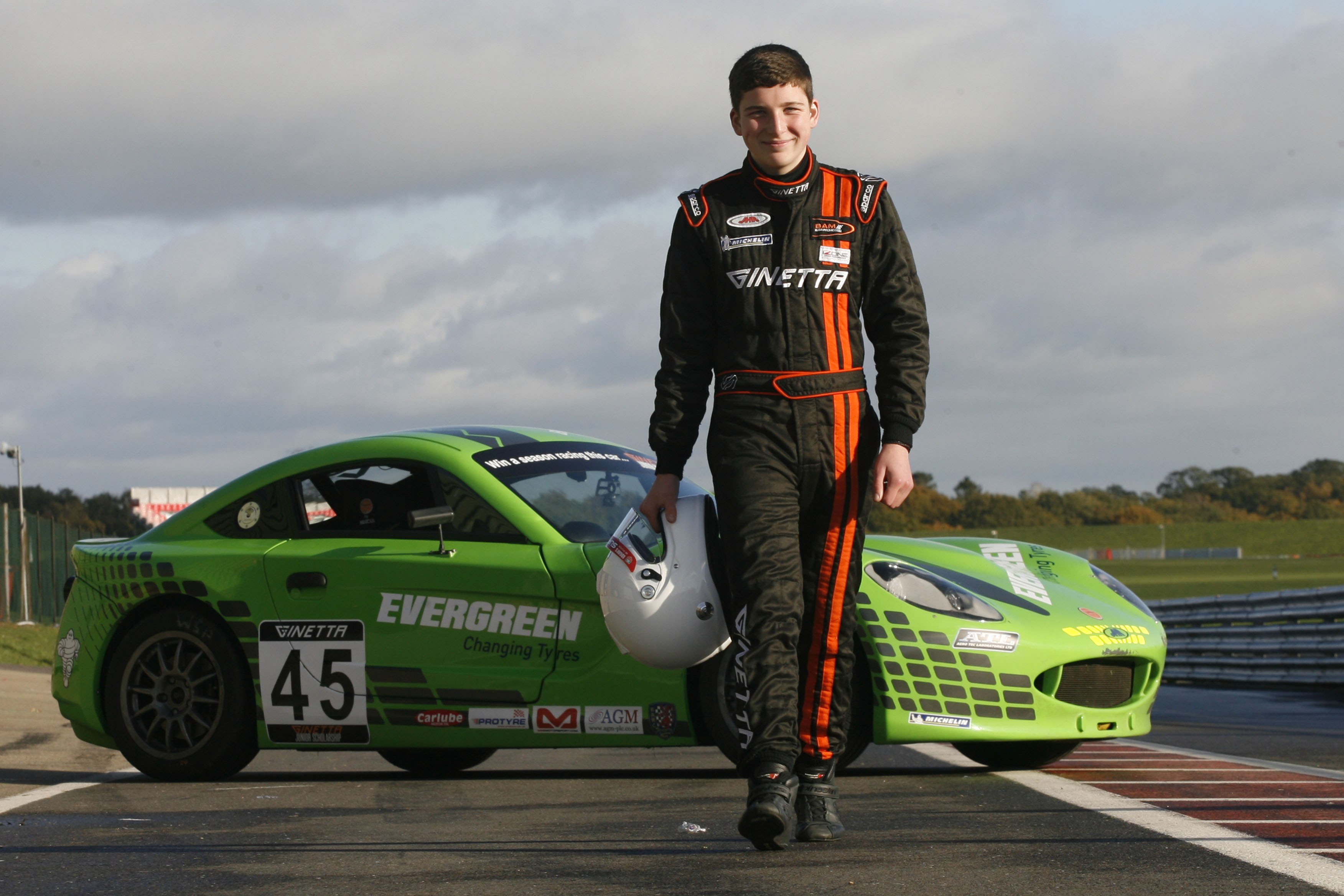 Brand to sponsor Dan Zelos in BTCC support series
Motorsport's popularity as a conduit for tyre manufacturers' marketing spend continues to thrive as aspirational brands from the far east seek to increase brand recognition and the perception of quality. The Evergreen brand, a relative newcomer to the tyre scene having gone into production at the Jinyu PCR factory in 2009, has become the latest to announce a move into the UK motorsport scene, tying up a sponsorship deal with car racing debutant Dan Zelos in the Ginetta Junior Championship. Evergreen says it is seeking to accelerate its expansion by following in the wheel tracks of some of its commercial rivals by taking its first steps into the high-octane world of motorsport through the partnership with promising Norfolk-based teenager.
The 15-year-old from Dereham, ranked third in the country in the fiercely-disputed British Karting Championship in 2013, is now ready to rev up his own burgeoning career a few notches. As the only driver in the field to have never previously raced a car, Zelos shone through the spray to claim a brace of top ten finishes on his bow in the Ginetta Junior Winter Series at Snetterton in November.
That was a precursor to the serious business in 2014, when both he and Evergreen will join the grid in the Ginetta Junior Championship – one of the key support series to the ITV4 live-televised British Touring Car Championship (BTCC), offering precocious 14-to-17-year-olds the chance to earn their racing spurs before they can even legally drive on the road.
Zelos' striking, Evergreen-liveried Ginetta G40 race car will be run by JHR Developments, and with more than 20 million UK television viewers last year, 229 hours of primetime coverage and 373,000 trackside spectators over the course of the campaign, the BTCC package represents the ideal promotional and marketing tool for a Chinese tyre brand seeking to gain real traction in Europe. Evergreen has similarly entered into a parallel sponsorship arrangement in the Renault UK Clio Cup.
'Major part of development strategy'
"Being associated with motorsport is a major part of Evergreen's brand development strategy for the year ahead as we look to continually develop its position as a top-quality import tyre," explained Peter Cross, Evergreen UK brand manager.
"Evergreen are tremendously proud to work exclusively in the UK and Ireland with Grouptyre. The relationship is in its fourth year, it has built momentum with year-on-year growth, the feedback from retailers and consumers has been phenomenal and we are keen to make sure the brand position matches the quality and performance of the tyre.
"I first presented the possibility of an association with Dan to Evergreen at the beginning of 2013. After noting his impressive record of success so far, they really jumped at the idea and are hugely excited about Dan's potential and what he may be able to achieve as he steps up from a brilliant career racing karts to his first time racing cars.
"To-date, Evergreen branding has largely been focussed on point-of-sale advertising through the Evergreen Performance Centre Network – now comprising 500 retailers around the UK – meaning this sponsorship will be the first real consumer-oriented marketing.
"The energy that Grouptyre puts behind the brand makes it a genuine profit opportunity for retailers who sign up as Evergreen Performance Centres. Group members are very close to the market, and as such understand what retailers require to be successful in a tough economic environment – a top-quality tyre with an excellent marketing support package that represents fantastic value for the consumer.
"Evergreen are extremely enthusiastic about stepping up marketing activities in the year ahead to help raise brand awareness via race-goers and TV coverage of the meetings, through advertising and building up a PR campaign around motorsport sponsorship and by offering corporate hospitality at race events for their dealers across the country."
"I'm really excited to be embarking upon my rookie season in car racing in the Ginetta Junior Championship with Evergreen's support," stated Zelos, who will also benefit from mentoring advice from three-time Ginetta champion Tom Ingram.
Evergreen products are designed with silica compounds to achieve longer tyre life with good fuel efficiency and safety in different weather conditions. Zelos acknowledges that as he steels himself for his biggest challenge thus far, he could not have a better partner on-board.
"Tyres play an integral role in motorsport, and carefully looking after them over the duration of a race distance can often make the difference between winning and losing – so maybe Evergreen can teach me a few tricks of the trade with regards to successful tyre-management!
"Evergreen's impetus in Europe over the past four years has been remarkable, and hopefully I will be able to repay their faith in me by complementing their stunning growth curve with the results I achieve out on the racetrack. I'm under no illusions that 2014 will be a learning year and a tough apprenticeship, but I'm fully focussed on working my way gradually up the grid and putting the Evergreen name right at the heart of the action."
Established in 2009, Shandong Jinyu Group's Evergreen-producing Jinyu Tire factory in China has modern and technologically-advanced tyre manufacturing equipment. A team of experienced technicians heads up a unit that produces 11 million passenger car tyres per annum, sold in more than 70 countries.