NHS can save money by checking tyre pressures, states Michelin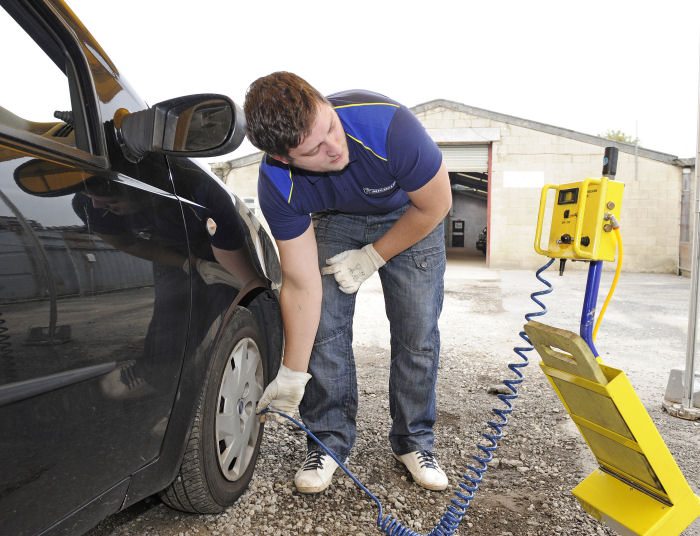 After visiting South West Yorkshire Partnership NHS Foundation Trust to test the pressures and condition of employees' tyres, Michelin calculated the NHS Trust could save almost £22,000 per year if all employee vehicles were driven with tyres at the correct pressure.
Results from the 75 cars tested showed that 49 per cent of tyres were at the correct pressure – better than the national average of 28 per cent – and a further 24 per cent of tyres were classed as 'acceptable', meaning they were up to 7psi under-inflated. Technicians found 15 cars which had at least one tyre 'dangerously' or 'very dangerously' under-inflated. And in addition to the serious safety risks posed, under-inflated tyres also cost motorists more in fuel; if the results from the recent test are indicative of the Trust's 2,000-strong fleet, Michelin estimates fuel savings of £21,750 could be made each year.
The Trust's Fleet Manager, Leigh Hancock, who was introduced to Michelin via the NHS's approved vehicle supplier Volkswagen Group Leasing, said the event had been a real eye opener for him and all Trust staff. "Volkswagen Group Leasing got in touch with us a few months ago with regards to Michelin looking at our fleet and seeing how they could help," he said. "We are interested in all aspects of health and safety as well as helping the environment, and of course making savings is always important, so we were keen for them to visit. The staff were really positive and many more than expected turned up to get their tyres checked on the day.
"We were surprised to hear that only half of the tyres were at the correct pressure – and even more surprised to hear that is much better than the national average," Hankcock added. "Now we know how much of a difference tyre pressure can make we will make a concerted effort to encourage all staff to take action. It's such a simple step but the savings clearly add up."
"Michelin are currently our first choice tyre fitment policy but whatever tyres you have it is so important to maintain the correct pressures," commented Volkswagen Group Leasing's public sector sales manager Marco Capozzoli. "This event has shown a significant amount of savings could be made, and we will be supporting the Trust in their efforts to educate staff about the importance of tyre pressures."
Michelin's head of Fleet, Dave Crinson, hopes the South West Yorkshire Trust can set an example to the rest of the NHS. "We hear a lot in the news about how the NHS is trying to make savings. Correcting tyre pressures is a simple task that can save a lot of money, not to mention the hugely positive impact it can have on safety and the environment. Our figures show this Trust alone could potentially save almost £22,000 each year. Imagine how much the whole NHS could save if all staff paid close attention to their tyres."