Life-size Scalextric anyone?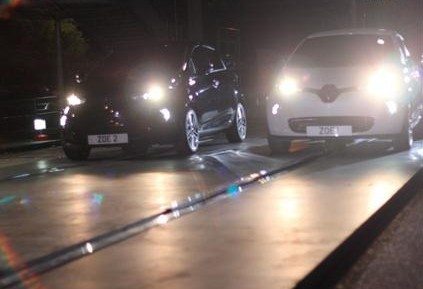 Remember when you were 10 and Scalextric was top of your Christmas list? Then you'll love this: Renault has produced a viral video showing off its electric cars competing in a life-size Scalextric race around central London. Electric vehicles are no strangers to motorsport – either in full-size racing, as Renault will show with its partners in 2014 with the FIA Formula E championship, or in miniature in the form of the ever-popular skirting-board scarring Scalextric models. Drawing inspiration from these two ends of the spectrum, Renault's team hatched the idea to take things one step further and race two full-size ZOEs on a Scalextric track.
Among the alterations shown in the film was a reworked undercarriage, including the fitting of specially-designed braids, keeping ZOE on the track, as well as an aerial to enable the car to be remotely operated from the sky. In the three-minute long film, viewers get to see the track being prepared at night, set for race action early the next morning. At dawn, two lucky online competition winners take flight in a specially chartered helicopter for the occasion to pilot their real-life ZOEs, obviously, complete with their own "throttles".
The race sees the white and black ZOEs do battle along a 1.9-mile specially created track. Taking in several landmarks along the way, it starts at the London Eye on Southbank, it takes in Westminster Bridge and the Houses of Parliament, onto Embankment and The Strand, back over the River Thames, this time across Waterloo Bridge, then the BFI London IMAX cinema in the lead-up to the finishing straight alongside the River Thames. Not everything is as it seems. All good fun though.