Half-century milestone for Lanxess' Zwijndrecht plant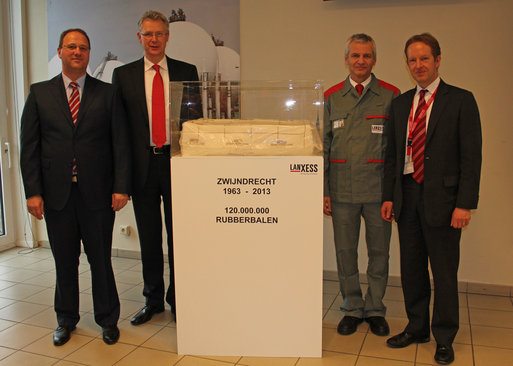 Lanxess has celebrated 50 years of butyl rubber production at its Zwijndrecht plant in Belgium. Festivities surrounding the milestone were rounded off by a plant visit from board member Rainer van Roessel on 17 December.
The plant was built by Polysar Belgium in 1962 and the first butyl rubber was produced on 21 November 1963; the plant had a startup capacity of 30,000 tonnes per annum and had 163 employees. In the following 50 years, the facility produced more than 4 billion kilogrammes of butyl rubber, and capacity has multiplied five times to 150,000 tonnes. The plant has been part of the Lanxess Group since 2004 and the company has invested more than €250 million Zwijjndrecht, for capacity growth and also in a new energy plant and in two pilot plants.