Conti solutions aiding compliance, reducing costs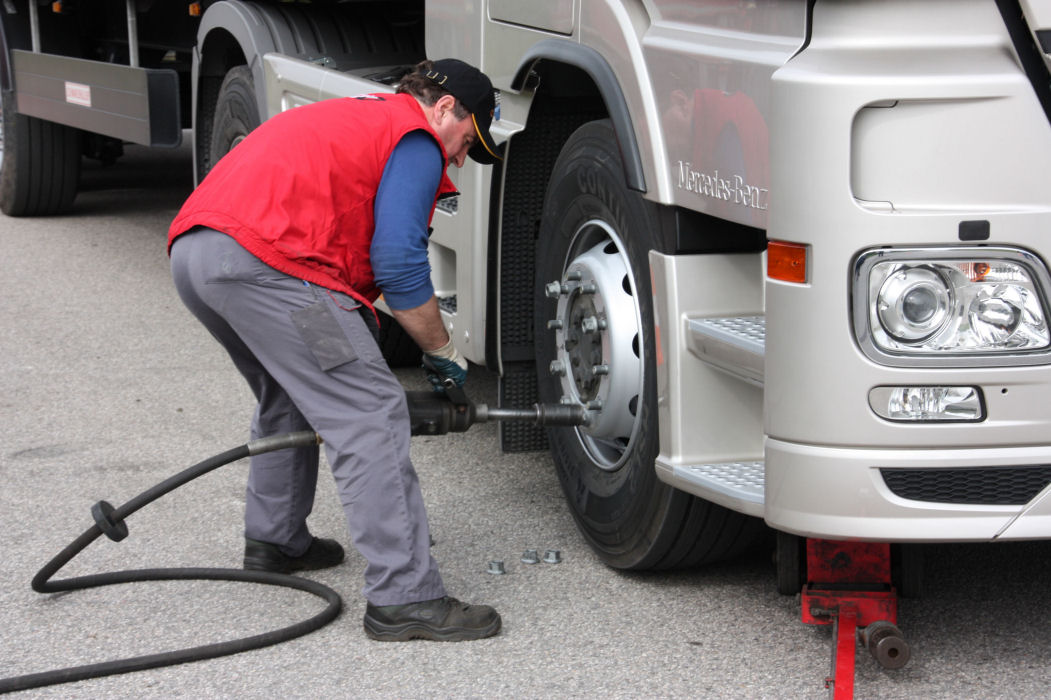 People in the UK tend to think they live in a heavily-regulated country, and when it comes to commercial transportation this is certainly the case. In addition to the safety laws that apply to all motorists, the professional driver and fleet operator must take a host of workplace health and safety and duty of care requirements into account – and on top of this come the regulations that apply to the vehicles themselves. Towards the end of October, Tyres & Accessories spoke with Tony Stapleton, commercial fleet sales manager for Continental Tyre Group, about the issues facing fleets and what the tyre maker can do to address this while minimising whole life tyre cost.
"The UK market is one of the most complex and mature fleet markets," he observes. "Take VOSA (the Vehicle and Operator Services Agency) for example, and the frequency of the vehicle inspections it requires – inspections are carried out two or three times more often than in many European markets. For this reason, compliance is a very big thing in the UK for operators, it is top of the agenda for many fleets. Fleet managers must deal with a rigorous KPI suite in order to meet this legislation, and the onus is also on manufacturers like Continental and the service providers we work with to deliver products and services that aid compliance."
The products and services Continental offers with this in mind were reorganised in 2010 and since then have been grouped together under the Conti 360°Fleet Services name. Stapleton says the Conti 360° banner represents a consolidation of what Continental already offered in some, but not all markets, and places an emphasis on whole life cost delivered through an efficient service network. The Conti 360°Fleet Services portfolio began in eight key markets and is currently offered in 14 European markets – Austria, Belgium, the Czech Republic, Denmark, France, Germany, Hungary, Italy, Ireland, Poland, Slovakia, Spain, Sweden and the UK. Continental's related 24-hour breakdown service is provided in more than 34 markets.
 Solutions for bigger, regionally-oriented fleets
Along with the growing geographic coverage of Continental's fleet portfolio, Tony Stapleton says that since the launch of Conti 360°Fleet Services, the tyre maker has adopted an increasingly pan-European sales approach. Stapleton is responsible for fleet customers in the UK and Ireland and says he has witnessed a trend towards the larger UK fleets growing bigger and operating most of the vehicle parc. Regional fleets, those operating 100 trucks or so from one location, are getting bought out and fleet business is becoming increasingly cross-border. "Businesses are making decisions on a wider basis than just the UK. They are operating regionally or globally and making the most of synergies for best practice procurement."
While Stapleton says fleet purchases of lower rolling resistance products has been a significant win for Continental and helped the company enjoy "year-on-year growth" since the repackaged Conti 360°Fleet Services was launched, he also observes that the cross-border nature of today's fleet operations can undermine their effectiveness: "Pressure maintenance is important, and some fleets say to us 'you're the fleet specialist, you should take care of this.' But the reality is that many operators maximise their vehicles' usage, and this can mean 24/7 operation. This makes it very hard to run a proactive pressure maintenance programme and therefore vehicles must be inspected every six to twelve weeks. And tyre pressure is increasingly on the agenda during these inspections.
"Our job is to audit fleets," the commercial fleet sales manager continues. "And we are still finding that in between ten and fifteen per cent of cases pressure is not being maintained properly – and by proper maintenance we mean within ten per cent of recommended levels. We work with fleets and servicing agents to rectify this, including to check if servicing agents have the correct equipment to inflate modern tyres, which can have up to 131 psi (9.0 bar) pressure."
The company's ContiPressureCheck tyre pressure monitoring system, which is scheduled for a 2014 roll out in the UK market, will help here. "We have the objective of getting this on our operators' trucks," says Stapleton. "Continental has the advantage of being an automotive systems manufacturer and we can work on systems ourselves. We are working to get ContiPressureCheck fitted as an original equipment specification." He adds that ContiPressureCheck was tested in the UK and Europe over the last 18 to 24 months with "very positive" results.
Stapleton also shares that, in terms of compliance, ContiPressureCheck TPMS can open new doors: "Some operators go to VOSA with requests for permission to operate in particular conditions, and VOSA asks if measures are in place to ensure this can be done safely. Tyre pressure maintenance is one factor they ask about. Using TPMS and having the data to confirm its effectiveness means vehicles can be approved to remain on the road longer between service intervals."
 3G range a move towards application-specific tyres
As mentioned before, Continental's focus is on whole life cost – and sometimes maximising this is as simple a matter as advising fleets on the right product to fit. "One challenge is to ensure a fleet operator fits the right tyre to start with," says the commercial fleet sales manager. "For example, tri-axle trailers are more or less unique to the UK market and we're operating a campaign to stop fleet operators fitting twin tyres – singles are much more efficient and cost effective, in fact figures show that fitting singles can reduce costs by 30 per cent compared with fitting twin tyres."
In regards to what users look for in tyres, Stapleton says that, in addition to fleet operator demand for rolling resistance optimised tyres, a headline trend is towards more application-specific fitments. This is something the company's third generation commercial vehicle range will address. As covered in previous issues of Tyres & Accessories, earlier this year Continental introduced the first members in this latest generation line-up, the passenger transport-specific HA3 Conti Coach, Conti CityPlus and the Conti Urban. These three tyres cover the long distance, regional and urban segments, and Stapleton says the move towards more application-focused tyres will continue as the third generation rollout progresses. The first half of 2014 will see the introduction of the Conti EcoPlus long-distance range, followed by the regional Conti Hybrid range in the second half of the year. Scheduled for launch in 2015 are the CrossTrac construction and Cross TerraPlus off-road ranges. The Conti Scandinavia winter range will complete the portfolio in 2016.
Product names reflect intended application, Stapleton points out. "The focus is to get the right tyre for the right application all the time," he adds. Fleets ask us 'What are you doing for us tomorrow?' We reply that we have the right products to meet their specific requirements and the right products to differentiate between us and our competitors. We have these products now and we will definitely have them with our third generation line-up."