Bridgestone named Hungary's investor of the month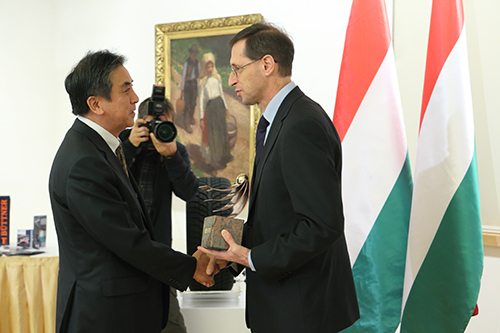 Hungary's Ministry of National Economy has designated Bridgestone's passenger car tyre factory in Tatabanya its "investor of the month" as part of its "Award for Successful Companies" programme. The accolade, one of three given under the programme, is given to corporations whose activities contribute significantly to the Hungarian economy and export growth, increase local employment and who have invested at least €5 million within the region in recent months. Bridgestone was acknowledged for the expansion it is now implementing at its Tatabanya plant.
"In name of Bridgestone Europe and all the Bridgestone Tatabanya employees, I would like to say that I'm extremely proud and honoured having received this award," stated Tatabanya plant managing director Kenji Karato. "We 'only' became part of this community some six years but it is encouraging to see that the Hungarian government has already valued our efforts and contributions to the society, not only in terms of providing labour or making local investments but also because of our CSR activities such as offering training and apprentice-programs to young people."
Since 2008, Bridgestone has invested €267 million to more than double production capacity in Tatabanya, and on 7 June 2013 Bridgestone Tatabanya Production Ltd held a groundbreaking ceremony for its next expansion project. This latest project will boost capacity at the plant to around 6.5 million tyres per year, bringing total plant capacity to approximately 18,000 tyres a day. The expansion is expected to be completed during the first half of 2017 and will create over 500 new jobs.
The groundbreaking ceremony in June took place a week after Bridgestone signed an official 'Strategic Partnership Agreement' with the Hungarian government. The agreement was signed in the Hungarian Parliament in Budapest on 31 May by Karato Kenji and Péter Szijjártó, Hungary's State Secretary for Foreign Affairs and External Economic Relations.