Yokohama Advan tyres complete inaugural F4 season in expanded 2013 lineup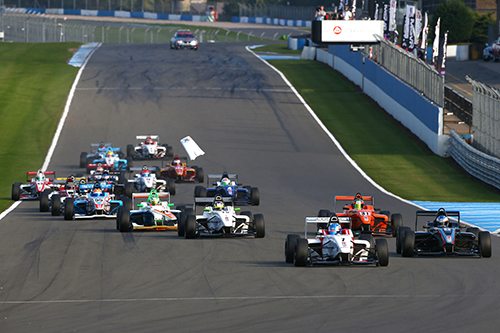 Yokohama's 2013 motorsport season included the novelty of supplying the control tyre for the inaugural BRDC Formula 4 series, which boasted full grids and close competition as a popular stepping stone in single seat racing for aspiring Formula One drivers. Yokohama's Advan A005 dry slick and A006 wet weather tyre were the control tyres for the FIA World Touring Car Championship for the eighth consecutive year. The championship was won by Yvan Muller for a record fourth time in the RML Chevrolet Cruze.
The first BRDC Formula 4 championship was won by 19-year old Jake Hughes while Charlie Robertson secured the runners-up spot with a double win on the final day of racing at Donington. As winner of the title, Hughes takes a prize of £25,000, a test in a Carlin Motorsport F3 car and a BRM watch.
Commenting, head of Motorsport at Yokohama HPT, Mark Evans, said: "I am also delighted with the performance of the Yokohama tyres used by the entire field. The feedback from the drivers, the teams and the organisers has been excellent, in terms of outright performance and grip as well as durability and consistency. It is exactly these qualities that make the tyres perfect for one-make series, ensuring that every driver and every team has exactly the same tyre, which they know they can rely on."
Following the success of the 2013 series, the organisers, MSV Racing, has introduced an F4 Winter Series, consisting of eight races spread over two race weekends, and using Yokohama control tyres.
In rallying, the brand was used by Andreas Aigner in the FIA European Rally Championship as he chased the prestigious Production Cup for Group N/R4 cars. On the penultimate round of the series, Rallye San Remo, Aigner clinched the 2013 production Cup, pending confirmation of the results from the FIA.
Endurance racing also features in Yokohama's motorsport portfolio, with the brand used by the Aston Martin Test Centre team at this year's Nürburgring 24H race, with both cars using the Japanese tyres recording a finish despite the event's torrential rain.
The brand has also achieved notable success in other formulae around the world, including Formula Drift in the USA, with the Advan Neova AD08R, the Malaysian Endurance Race series and will again be control tyre for this year's Macau F3 Grand Prix meeting, held the same weekend as the final round of the WTCC.
In addition, the series is used for numerous one-make race series in the UK, including the Irish Touring Car Championship, Sports 2000 and the Mighty Mini series, Scottish Mini Coopers and Caterham Graduates, BRISCA oval racing and in British Rallycross, with the Suzuki Swift class.