Team Toyo Tires Drift wins Japanese drift championship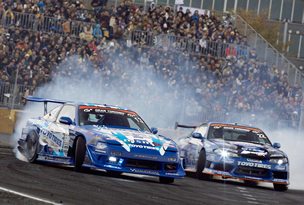 Toyo driver Masato Kawabata has won the 2013 D1 Grand Prix Series overall championship as well as the tan-sou championship. In the finale of six rounds of the 2013 D1 Grand Prix Series, held on November 9 at a specially built course in Odaiba, Tokyo, Masato Kawabata unleashed a powerful driving performance in the tan-sou finale contested by the top 16 racers.
Kawabata held off Team Toyo Tires Drift teammate Akinori Utsumi in the final match to earn his second overall series championship. Based on this result, Kawabata finished atop both the overall and tan-sou rankings to earn his first overall victory since he became Series champion sic years ago in 2007. Finishing just behind Kawabata in the rankings were Team Toyo Tires Drift teammates Tatsuya Sakuma in third and Akinori Utsumi in fifth.
In addition to the champion performance of the team's racers, the Team Toyo Tires Drift promotional booth won first place in a yearlong vote by fans.