Pirelli signs for 2014 Mini Challenge supply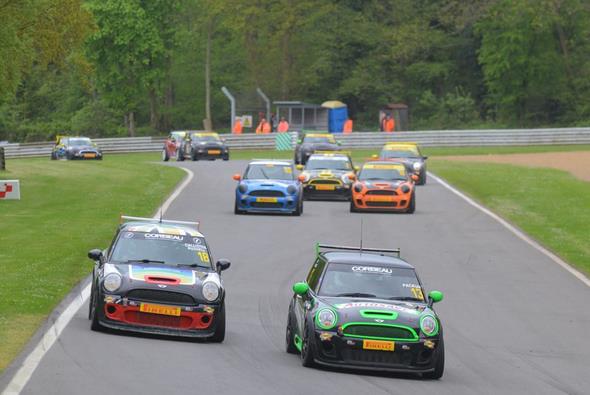 Pirelli has signed an extension to its supply of the Mini Challenge. The tyre supplier, which has original equipment deals to supply its P Zero and Cinturato tyres to the road-going Mini Countryman and Mini Cooper S, will supply both the Cooper class and the turbo-charged John Cooper Works class throughout 2014, the series' 13th year. The series organiser said it had agreed to place controls on tyre usage in conjunction with the tyre supplier, with the aim of keeping down the cost of competing.
Pirelli Motorsport operations manager Matthew Corby said the Mini Challenge "has grown from strength to strength this year," adding that it makes sense for the manufacturer "to continue as the official tyre supplier to the country's main Mini racing championship" in light of its OE supply to two of Mini's premier road cars. "The Mini Challenge offers a fun and friendly environment, technical parity and effective budget controls to create an overall package which is difficult to rival in terms of value for money."
Mini Challenge UK championship promoter, Antony Williams, said: "Pirelli is a fantastic brand to be partnered with and the company has been very supportive of the Mini Challenge. Our relationship is a key reason as to why our grids have been so strong in 2013, with typically 27 or more drivers taking part in the Mini Challenge at each event.
"The controls on tyre usage that we have put in place with Pirelli, along with the value for money and durability that Pirelli tyres offer, mean that this key part of the budget is kept under control. We are expecting 2014 to offer more of the same but with more Mini festival events, other higher profile events and improved media coverage – all within the same sensible budgets."
Mini Challenge race weekends consist of one qualifying session and three 20-minute races. For the first time in six years, the series competed on European soil in 2013, visiting former Dutch Formula One circuit, Zandvoort, for the season's penultimate round.
Pirelli now supplies tyres to more than 250 motorsport championships worldwide and has been the tyre supply partner to the Mini Challenge in the UK since 2012.