Michelin shows hard surface tyre at Agritechnica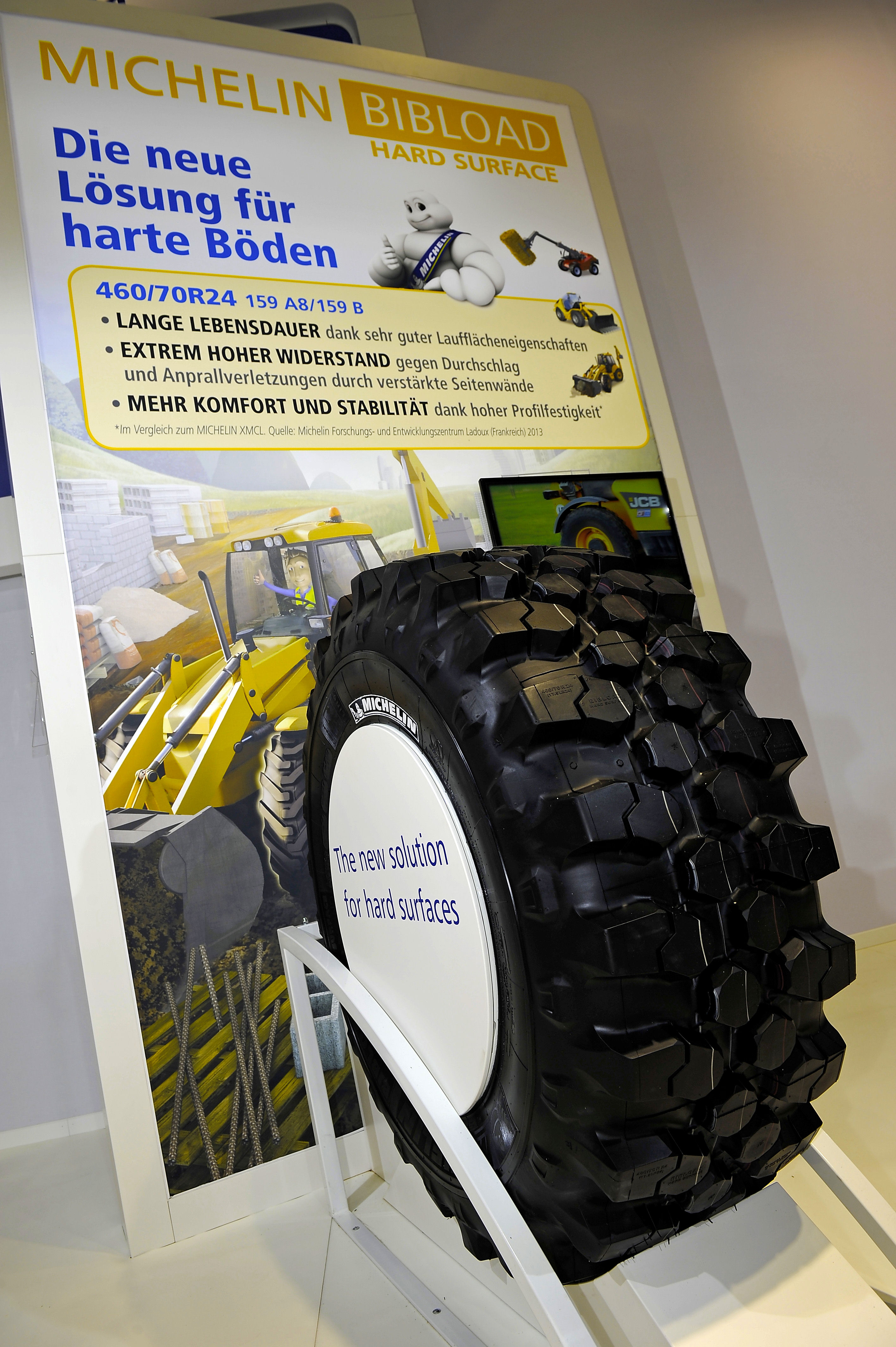 Next year, Michelin plans to extend its tyre line-up to fully cover all phases of the crop cycle and adapt to new types of use, and at this week's Agritechnica show the tyre maker is presenting the new products joining its portfolio – on of these is the BibLoad Hard Surface, a new range for compact and telescopic loaders.
Modern farms increasingly use compact loaders and telescopic equipment, and recent growth in farm sizes mean these machines spend more time on the road and in asphalt farm courtyards and platforms. Michelin notes that, in some extreme cases, farmers spend up to 50 per cent of their working time on hard surfaces. The Michelin BibLoad Hard Surface line-up is intended to cater to this pattern of usage.
In developing this range, Michelin says it integrated a large number of usage studies involving dozens of farms in France, Germany and Russia, in which the tyres were tested in real-conditions of use. Compact loaders and small telescopic machines were equipped with GPS data acquisition systems and the conditions of use were thoroughly analysed.
By characterising usage in this way, Michelin was able to define the specifications for the perfect tyre. What Michelin found is that today's machines must carry out a large number of lateral, longitudinal and transversal movements on hard, wet and even snow-covered surfaces. The challenge the tyre maker faced was to come up with a solution that responds to all of these conditions. To meet this, Michelin developed a multi-directional tread. For the same reasons, the tyre sidewalls were made much more robust.
"As a result, the new Michelin BibLoad Hard Surface stands apart because of its unique tread," writes the tyre maker about the new range. "With its patented tread, the Michelin BibLoad Hard surface is the first tyre with diamond-shaped tread blocks made up of bevelled facets. Offering no fewer than six different grip angles, these progressive facets make the block more rigid regardless of the tread depth. Carved down to the base of the tread block, the bevels help to spread stress across the casing layer during lateral movements, while also facilitating the evacuation of mud."
Michelin says the dozens of farmers who helped develop the tyre all agree that the tread's rigidity makes the vehicle highly responsive and the sidewalls more resistant to cuts and scrapes. They also said the tyre made for a very comfortable ride, the tyre maker adds. Developed to complement the XMCL range of tyres for use on loose soil, the new BibLoad Hard Surface tyres have a void ratio of 50 per cent instead of 70 per cent, which helps to reduce noise and improve driving comfort.