Maxam reports on Beijing and Minsk shows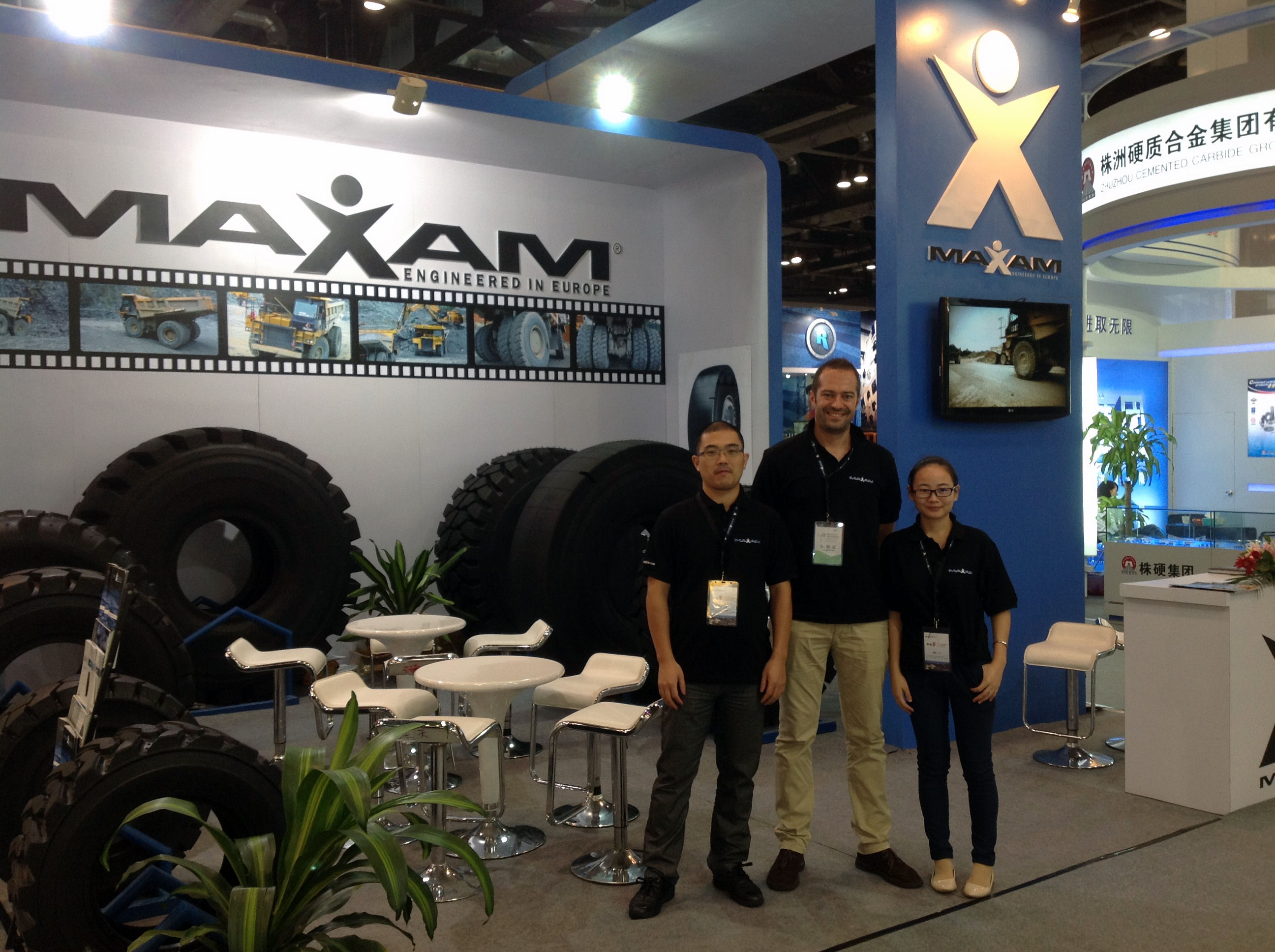 Luxembourg-based Maxam Tire has been very active recently in the exhibition arena, showing examples of its product range at shows in China and Belarus.
The China International Mining Expo (CIME) has developed into one of the world's five largest mining exhibitions and this year's event, held recently in Beijing, attracted over 41,000 visitors and more than 550 exhibitors. Maxam Tire showed eight tyres from its range and the stand was manned by staff from its exclusive dealer in China, TNR International Co. Ltd.
Speaking of the exhibition, Maxam CEO, Ian Thomas, said: "As a market for Maxam, China is very exciting. Its economy and industries are developing rapidly and the potential is enormous. An event the size of CIME 2013 gives us the chance to showcase our tyres to thousands of mining professionals and we had many interested visitors to our stand. The feedback we have had indicates that they were very impressed with both the quality of our tyres and the extent of our range. Having a presence at CIME 2013 was certainly worthwhile for Maxam."
 Maxam at Minsk
Budpragres is an annual exhibition, taking place at Minsk in the Republic of Belarus. Held with the support of the Ministry of Architecture and Construction, it is the largest and most prestigious event concerned with the building and construction industries in Belarus, dedicated to equipment, machinery and tools for the construction industry.
The 2013 exhibition was the 21st to be held and MAXAM Tire was one of the 300 exhibitors, showing 10 of its range of tyres. The company was represented by Martynas Jankauskis, director of Nortire UAB, of Lithuania; the company that handles Maxam tyres in the area. More than 28,000 visitors attended over the four days of the show, with most coming from Belarus itself, the Baltic States and countries in the CIS.
In these days of the Internet and instantaneous communication, is there still a place for exhibitions? Anne-Gaëlle Halter, Maxam Tire's marketing coordinator, explained that having a physical presence at such exhibitions was an important part of Maxam's marketing strategy, saying: "When it comes to communications, Maxam embraces the latest technology and we are extremely active on Facebook, Twitter, YouTube and other social media, as well as through our multi-lingual website. However, sometimes there is no substitute for seeing and handling the tyres – it makes it easier for potential customers to see for themselves the quality of our design and manufacture."
Ian Thomas agreed. He said: "This is why Maxam exhibits at specialist events such as Budpragres and CIME 2013; recently we showed our tyres at an exhibition in Australia and next year we will be at Conexpo in Las Vegas and the Reifen show in Essen, among others."