Tyregiant helping support independent Bond International customers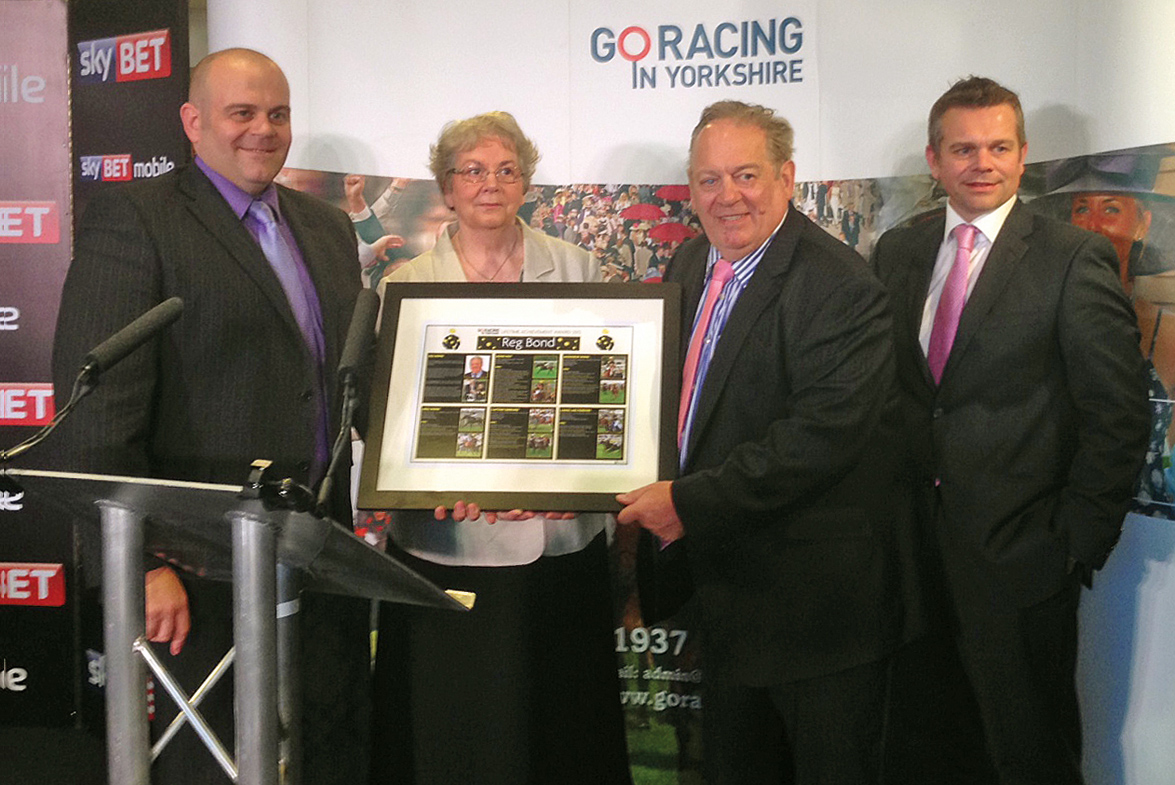 Reg Bond rewarded for horse racing support
Reg Bond is rounding the final corner on 50 years of tyre wholesaling since opening in Pocklington, near York, and the company is currently developing one of its bigger innovations – the move into online tyre retail with Tyregiant – signifying Reg and his family's desire to drive the business forward. The upcoming milestone has also been marked by another achievement recently, as Bond was rewarded for the work in his sporting passion outside the tyre business. Bond was presented with a special Lifetime Achievement Award by Go Racing in recognition of his outstanding service to the sport. Bond International continues to support meetings at York Racecourse along with Infinity Tyres, for which the company is the UK distributor.
Online Bond's bespoke online ordering system, 'Fastrac', now has more than eight years under its belt, and the company says that uptake is "still growing rapidly". The company continues to develop the system regularly with new functions aimed at "streamlining the search and order process".
The newer side of the wholesaler's online business is the customer-facing Tyregiant e-Commerce site, which has been operating with the goal of increasing business for Bond's number of independent dealer customers. The tyre distributor characterises its role with retailers as supportive: "With several major players dominating the online retail tyre market, [we] decided it was time to help… independent customers get a piece of the action without incurring the high costs associated with launching and maintaining a retail website," the company states.
Bond says its customers are seeing increased traffic through their doors, "with excellent profit opportunities" as a result of Tyregiant and other online partnerships. The company operates with four warehouses and "over 100 delivery vehicles". These "handle over 20,000 tyres per day (10,000 in and 10,000 out)," Bond says. In this way, Tyregiant was able to stock 500,000 tyres from day one.
The website has a network of more than 600 accredited fitting centres nationwide with Bond's vehicle fleet delivering directly to fitting stations in the wholesale business's dealer network. Bond stresses the win-win nature of the consumer-facing website, which will "drive more retail business to its customers and at the same time put more wholesale business through its own books."
Bond brands
Bond says it has "continued to strengthen its relationship" with the leading premium brand manufacturers particularly over the last few years, while it has a strong range of exclusive value brands. While Jinyu and Rotalla are also available on an exclusive basis through Bond, the key brands of Marshal, Infinity and Sailun all offer dealer incentive programmes. The wholesaler says they are "proving to be very popular with some exciting new schemes". Bond has recently launched a marketing campaign for winter tyres, restating the suitability of the products in cold weather, and publicising the Jinyu and Sailun brands particularly.
Bond has even tied in the promotion of Tyregiant with Reg's other passion. In addition to the standard investment in design and search engine optimisation, Tyregiant has sponsored horse races at York, Doncaster, Beverly, Ripon and Redcar as a way of raising the brand's profile. It sponsored a race on each occasion and a hospitality box at York.