T&A meets Goodyear Dunlop UK managing director Erich Fric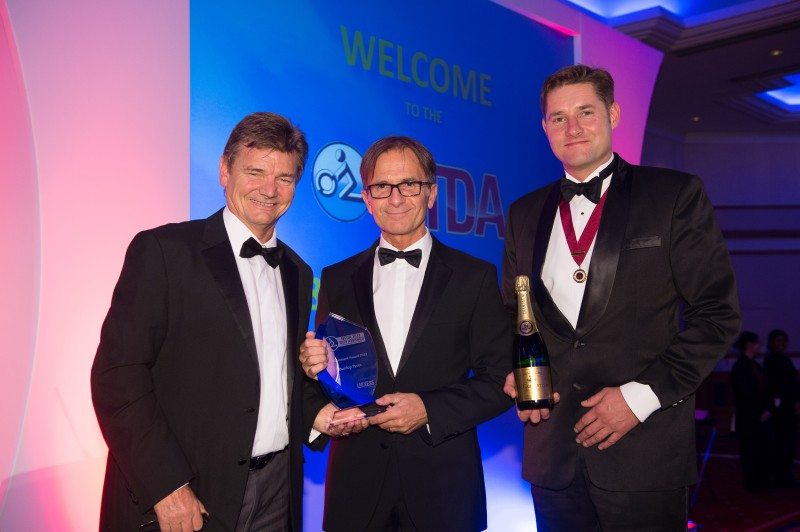 The latest in a succession of leaders at Tyre Fort in Birmingham, Erich Fric brings with him an easy-going, but teutonic clarity into his (relatively) new role of Goodyear Dunlop UK managing director. Almost a year after news of the appointment was released, Tyres & Accessories visited the company headquarters in mid-April for the MD's first published interview in his current role where he shared his views on the British tyre market and recent corporate criticism of the companies EMEA region.
A mechanical engineer by profession, Erich Fric is a 57-year-old Dunlop and before that Robert Bosch veteran. He may be new to Goodyear Dunlop UK, but he's not new to Britain. In fact Fric's route into his latest position demonstrates that his earlier experience of working in the UK made something of an impression. At one point in a previous professional incarnation, Fric spent time working with diesel injection systems. And with British Leyland and other truck OEMs here in blighty as customers, this meant travel and residency in the UK. As it turns out the experience was so positive that when he heard of the opportunity of working in Britain again, he jumped at the chance.
But steering Goodyear Dunlop's presence in the British Isles is somewhat different to his last couple of postings leading Goodyear Dunlop in Austria and the Nordic/Baltic markets.  Almost a year into the job, he describes the UK tyres sector as "a big and dynamic market", adding that the Birmingham-based is comprised of a "strong team wants to move forward" despite the obvious difficulties facing the tyre business in general. And what's more, from his vantage point the company is already "going in that direction" and has "the potential for strong growth."
Three to five year assignments are the norm
But first the obvious question – how can a leading manufacturer maintain its position in a close-knit market such as the British Isles when the leadership changes as frequently as it has? Erich Fric is the fifth managing director at the company since 2004. His most recent predecessor, George Rietbergen, stayed less than three years and before moving on to a European vice presidency, like Mark Brickhill before him.
In answering, Fric flipped the question around: "Three to five year assignments are the norm….[and] Europe couldn't have asked George Rietbergen to move on if the team left behind was not already strong for the structure to function effectively with leadership turnover having been what it has been. Another factor is the loyalty of the team which includes many who have stayed longer and in some cases career long service of 25 or so years. These veterans bring real stability and continuity with them." Asked how long he was planning to stay, Fric answered directly without any hesitation: "I wouldn't mind saying five years – if the team and company agree."
After establishing that Fric doesn't have any plans to move on at this point, the conversation moved onto the unique retail and wholesale flavour inherent in the UK market. "It's a bit complicated compared to the Nordic markets," Fric offered euphemistically referring to the vast number of brains distributed by the combination of a handful of large wholesalers and retailers plus a myriad of independent tyre dealers. Elements of this can be found in other European markets but the combination can't really be found within any other single market in Europe. Referring to the relatively unique role play by wholesalers in the UK, Fric obsevered: "Here they are real experts in logistics". It seems his first goal with regard to the wholesale business is to establish relationships before furthering cooperation: "Once we have found commonality there is the opportunity for partnership. While product forecasting is hard in Nordic markets [for example] the logistic expertise of UK wholesalers helps a lot and this is one such opportunity."
One might think that it is complex product lines like winter tyres that particularly require this kind of cooperation, but according to Fric the winter market operation here is actually considerably easier than in Scandinavia and other heavy winter markets. In the Nordic markets the proliferation of stock keeping units (SKUs) is significantly more complicated because, although people might put it in the same box as Germany or Austria, there are probably double the winter product lines before summer and all-season tyres are even considered. Although virtually everyone fits winter tyres in the cold months, 50 per cent of these are studded, with another quarter produced with soft winter (or extreme winter) compounds, which offer comparable performance to studs for most Nordic drivers and with the rest driving on Western European winter tyres. And this is all in addition to the summer tyres present in the market.
Instead Fric's enthusiasm towards cooperating with British wholesalers is because of their forecasting prowess and their ability to offer multi-drop services almost anywhere in the UK. Indeed the concept of doing three drop a day to tyre dealer on the outskirts of Norwich was both baffling and impressive to Fric.
Corporate finger pointing
One of the dubious privileges of being a leader is that you have to face down criticism. So what does Erich Fric make of the fact that in recently financial results statement Goodyear Dunlop UK's US-based head office has bemoaned the profitability of the company's Europe Middle East and Africa (EMEA) region? While he admitted he cannot speak for the region as a whole (but rather the British Isles for which he is responsible) Fric did share his perspective in terms of the European tyre business in general and the UK market in particular.
While people may draw their own conclusions about the potential internal politics associated with discussions of finger pointing between different regions of a global company, it is also be worth pointing out that what might be numerically true for Europe, the Middle East and Africa as a whole may not be true for each individual region. And what may be true for Europe as a whole may not be true for the constituent countries within the continent. Indeed what is true for Europe (that its 2012 figures were somewhat underwhelming) doesn't appear to be the case for the UK where 2012 full-year figures were up on 2011, which itself was good and has even been described as a "turnaround" year.
There are also said to be reasonable explanations for what has transpired. As we know from evidence in markets across Europe, dealers have learnt to keep inventories low and OE business has been significantly impacted by an overall lack of demand. Across Europe, winter tyre sales have been markedly down, but once again this is patently not the case in the UK. And even if it had've been, the size of this segment means its impact would have been much more limited that in large mainland European markets such as Germany. However while these structural factors mean sales of bread and butter products have felt the effects of market conditions, Fric points out that the highest value UHP, RunOnFlat and 4×4 products have been outpacing the recovery of the market, meaning sales should be particularly good when the market as a whole recovers. This can be seen in the market shares of the Goodyear and Dunlop brands combined, which when taken as a pair put the manufacturer clearly ahead of its premium competitors. However, taken as individual brands the company's two flag brands remain a few places off the pace.
In light of all this it is worth asking what impact the corporate criticism will have on EMEA plans. With the closing of Goodyear's Amiens plant and the likes of Michelin openly considering its European capacity requirements, Pirelli delaying its industrial plan and Continental admitting ahead of publication that it will undershoot its first quarter financial targets, does this mean Goodyear Dunlop is considering any further production efficiencies in Birmingham or Wolverhampton? The simple answer is no. According to Fric, UK production capacities have already been pretty much optimised and these operations are set to stay as they are. Furthermore there are no specific plans for additional efficiencies (read cuts) across Europe at this time.
Premiumisation
With ERMC saying European sell-in was down double digits last year and was similarly poor in the first quarter of 2013; and with third party market researchers saying sell-out was half or less of that, industry figures are beginning to indicate that there is room for optimism. And while no-one is expecting an overnight turnaround, Fric counts himself amongst those that see the market's decline as coming to an end. Overall, he says it stabilise, but we can expect some degree of upswing in the passenger car and truck and bus sectors. The relatively positive sell-out data combined with the UK's almost uniquely positive new car registration figures are cited as the reasons for.
However, Fric understands that in order for Goodyear Dunlop to achieve its goals it cannot simply sit tight and wait for the market to recover. Instead the emphasis is on leveraging the company's strengths through product innovation, OE, motorsport, tyre tests and education, marketing and promotions Here in the UK (as opposed to the Nordic and German/Austrian markers) a tyre is a real commodity. And for this reason Fric admits that the company must take the recent growth of upper mid-range challengers seriously.
Labelling is a help in the longer term and Goodyear Dunlop's current European positioning is interesting in this respect (see "Goodyear aiming to lead in tyre labelling", Tyres & Accessories April 2013 for more on this). But the emphasis needs to be on innovation: "When we come off the gas with this we lose momentum". An advocate for winter tyre criteria when the labelling rules are revisited, Fric is also a supporter of labelling enforcement. But what does that mean in practice? Fric's response was perhaps the clearest and most straightforward of the day, summing up the calm but clear approach of the managing director: "It means yes when it comes to offering know-how support and no when it comes to financial support." A straight answer to a straight question.